Our latest project launches today – UKAirDates.com
An idea that I had in 2014 finally comes to reality today! Back in 2014 I bought the domain name ukairdates.co.uk because I was sick of trying to find out when American shows would be back on British TV. However, due to projects like WOW TRK taking off (pretty much around the same time) I haven't had any time to work on new projects and this is something I wanted to be personally involved in, as I had a clear vision how I wanted this to work.
The majority of websites focus on listing American TV show air dates and information about American TV shows. Sometimes sites list UK TV shows and mention the UK air dates for these – however don't exclusively focus on just information for UK users. The sites always seem to have terrible designs making it hard to navigate across the site or are covered in huge and annoying ads (something we discussed and said from the outset we would massively avoid).
In May we decided to dedicate part of the teams week to "new projects" as we haven't worked on anything new for some time and wanted to expand as a company what we do. We had some great ideas but settled on focusing our time on UK Air Dates as we felt it had the most long-term potential.
Over the last couple of months we have been working on the development of the site and today we launch the site onto the web! Whilst we have been developing the site it has evolved into not just information on UK Air Dates (which is still its core focus) but it is also a great resource for finding out about what airs in the UK on TV, a great TV discovery platform and resource for TV show news.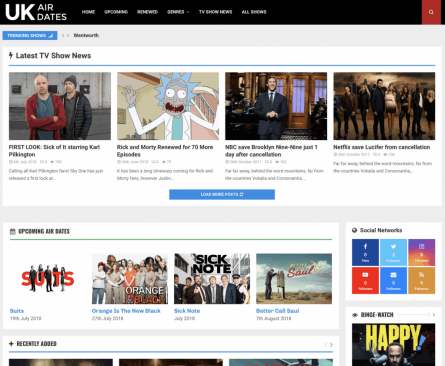 The site launches today with more than 250 shows listed however, we plan to have 1,000 TV shows listed on the site by the end of 2018.
Check out the site at www.ukairdates.com – if you have any feedback don't hesitate to get in contact us. We always listen to feedback from users and will be constantly developing the functionality and content of the site.