At the weekend, WOW Media will celebrate 10 years (that's right 10 years!) since it was first started, back when I was still at secondary school.
I thought it would be good to reflect on how the WOW Media site and the company as a whole has changed throughout the years and how WOW got to where it is today, operating a leading global affiliate advertising network – WOW TRK. Today WOW TRK has over 12,000 affiliates and works with more than 400 advertisers directly including top brands like Booking.com.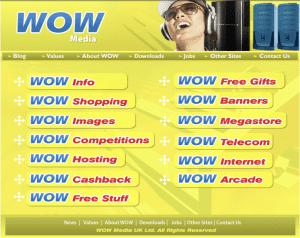 WOW Media in 2007 – The year WOW Media first started. WOW Media operated quite a few different sites and as you can see above – I wasn't really 100% sure on what the company should focus on. Our cashback sites 'WOW Cashback' and 'British Rewards' (not listed above as only WOW branded sites were listed on the WOW Media site) were the biggest of our sites, British Rewards ended up having over 250,000 members at its peak. When British Rewards first launched it was the only cashback shopping site in the UK to offer no minimum payout on your cashback earnings.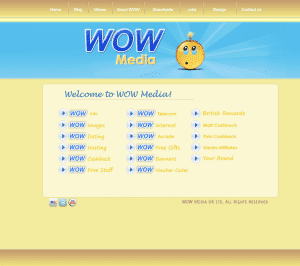 WOW Media in 2009 – 2 years on, the website was redesigned and the 'WOW bomb' which was the company mascot for a few years was first introduced. The WOW site started to list websites operated by the company, which were not WOW Branded. Matt Cashback was launched which was our cashback brand operating in Australia, USA and Sweden. Also 'Your Brand' was launched which let people set up their own cashback sites – this grew very quickly, as we didn't charge any fixed fees, setup costs or monthly fees just a % of revenue generated through the sites. This was also when we started to focus on WOW Voucher Codes which for a short period became one of our biggest sites ranking high on Google for keywords like 'voucher codes' and 'online discount codes'.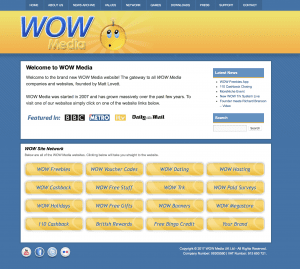 WOW Media in 2011 – This design went live not long after we relocated the company office from Birmingham to Newark, Nottinghamshire. In 2011 we cut a lot of our websites, the focus of the company was spread far too thin. Time would get spent making one project succeed only for another to suffer – so it was decided many projects would be cut. Many of WOW Media's websites were closed over 2011 and 2012. 2012 was also when I made the very hard decision to close all our cashback websites, cashback shopping was what got me into affiliate marketing and how WOW Media originally generated most of its revenue – it was a hard decision to make, however the market had become too matured and I decided it was time to let it go.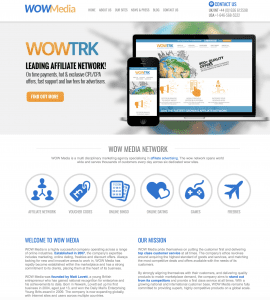 WOW Media in 2014 – Not much has really changed on the WOW Media site since this design was launched in 2014 (now approaching 3 years since this has been live it's the longest surviving design, maybe its time for a change again?). However since this design was launched, there has still been many changes behind the scenes. One of our core focuses our mobile game was sold. Our focus in 2014 really started to move solely towards our affiliate network, WOW TRK as this was bringing in the majority of our revenue. In 2016 WOW Freebies was relaunched and this started to become a bigger focus for us as well. The other sites (Wowingo, WOW Voucher Codes and WOW Dating) are still going strong and WOW Voucher Codes is shortly going to be relaunched with a new design.
It's been a great journey over the past 10 years and I look forward to seeing what the next 10 years brings for WOW Media!