Last week we celebrated our 7th birthday! Seven whole years since we first launched, crazy how quickly time goes.
Now a week later our new website is here, along with a fresh logo for 2014. The new WOW Media website is also fully responsive so it works great for all our mobile visitors.
Our website was first launched in 2007, since then the website has changed its look 4 times (including the latest design). Our previous design was introduced in 2011, so we figured it was time for a fresh look.


2011 – July 2014 design: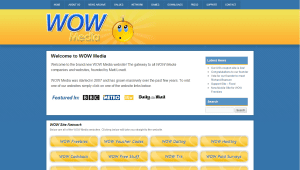 We hope you like the new design and if you have any comments please do let us know through the ]social media channels we are on (linked at the bottom of the site).
Find out all the latest news at WOW Media with our free newsletter, click here to sign up – only takes a minute.