Over the past couple of months we have been working on several of our websites ensuring that they work well across a variety of devices (desktops, tablets and mobile devices). A task we have been pushing back for far too long.
Last month we launched the refreshed design for the WOW Media site and also for UK Air Dates. Both these designs featured very minor visual changes, but a massive redesign of the backend. This was all about ensuring the websites were fully responsive, to offer a good experience to all users no matter what device they use.
Next up it was time to tackle WOW Freebies, a fairly big project compared to the other sites. The WOW Freebies design has had issues since it was first introduced. On some tablets there were large issues (like the screenshot below) and issues on some mobile devices as well. The design isn't responsive and so only catered to specific mobile devices.
The new design & look
When working on the rebuild of the design to ensure it worked across all devices, we decided it was time to also modernise the look a little and unlike the other sites which were extremely similar visually to the previous design, we decided to make a fair few visual changes to the WOW Freebies look to improve the experience for users. Ensuring content was easier to read and for it to be faster for users to find the most relevant freebies for them (not just in how offers can be found but also to ensure the website was faster in general!).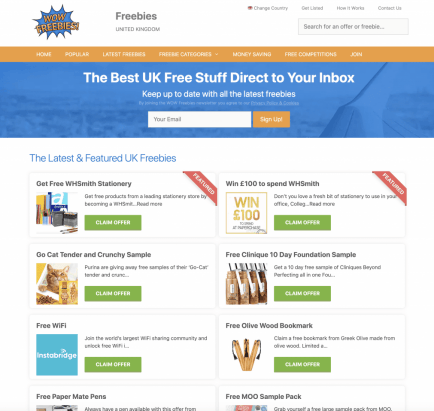 The new look has a modern flat design to it and offer listings no longer have the dashed border design around them, text and buttons have been enlarged and redesigned to make it easier to read content and access what you need faster. Every freebie listing has been checked over and organised into sub-categories making it easier to find the right offers for you.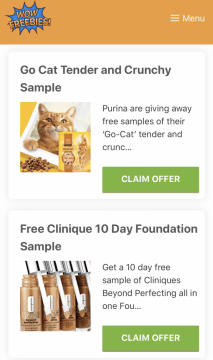 When does this go live?
This will first go live for WOW Freebies Australia in early February. With the other countries to follow over the next 6 months, we don't have any confirmed dates yet for other markets but we expect the New Zealand site to launch the new look around March/April time.